Circus Love

© Stephanie Gengotti


The magical life of europe's family circuses

Circus Love, is a long-term project started in 2016. The work is divided into chapters, each of which tells the story of a different group.

The Brunette Bros., the second smallest Circus in the world, a family of Danish, Spanish and Italian artists travels around Europe in their retrò caravans.

Les Pêcheurs de Rêves, French, a clown family in which Florence and Vincent interpret Za and Krapotte, staging a parody of their marriage.

Teatri Mobili - Girovago and Rondella, Italian puppeteers and South American artists move on a bus with their mobile theatres, telling the world their love story started 30 years ago in the Aegean Sea.

Cirque Bidon an amazing French Circus created in the '70s by François Bidon, travels around Europe on horse-drawn caravans.

Giffords Circus, a magical village green circus that tours England throughout the summer.

A crazy and surreal world in which real-life mixes with fiction on the notes of original soundtracks, created specifically for the show.

The Raluy Legacy Circus is an artistic reality that is expressed in the contemporaneity of the new Spain, but which embodies the most realistic vision of that analogical time of the gold diggers, of the noisy fairs in small villages with rough roads and oil lamps, when Acrobats and Clowns represented the solemn and grotesque portrait of human society, exposing its weaknesses and exalting its strength.




A story on nomadic families, that embodies much more than a bohemian lifestyle. They are unconventional circuses, artists who have reinterpreted and enlarged the concept of traditional circus conceived by Barnum & Bailey with freaks and animals, an encounter and a union between many disciplines and arts.


They live travelling the world and performing in international street art festivals, offering their show to those ready to perceive wonder and beauty. They can be considered part of the last heirs of an almost disappeared world.

These families who have consecrated their lives to modern circus art can, as far as possible, indicate a path of wisdom to the rest of the confused humanity of our days. These creative nomads base their social organization on the analytical, strategic and empathic abilities typical of women. The modern circus is a perfect car because it is guided by an illuminated matriarchy. A recovery of ancient philosophies.


The Circus so outdated, yet so perfect, like a symbol of a world without frontiers, globalized, multiethnic, a wheel, which spins and squeaks, relentlessly and without a pause.

The Circus with its delight and its despair is a metaphor for life.

The Lives of the Artists are filled with love, victory and triumph, defeat and humiliation; nomadic lives which follow diagonal or circular routes, like the cycles of seasons.

The circus symbolizes both freedom and enslavement.

The liberty to not obey a master, nor borders. Slaves to relentlessly cold and rainy winters, which invade the precarious caravans and summers in which the suffocating sun beats down on the dusty roads to barter with one's last breath.

They work for themselves, their families and fellow adventurers.


The circus is not only art and creativity, but also patience and preparation, physical training and manual labour; it consists of study, design, blood and sweat, working diligently for hours to come up with a new show and long days of gruelling tests. All this perhaps with just a few dollars in your pocket and little food in your pantry, contented by your staging ground which could be the parking lot of a supermarket.

Its greatest virtue coincides with its own greatest limits; the impossibility of a definitive goal, the eternal search for something which just perhaps exists; or maybe not.


A confirmation that humanity still exists in this hyper-technological world where the lives of people are decided by algorithms. This project is a scream of rebellion to reaffirm the human dimension, to highlight the priority need to recover a sense of sharing, sense of family, the sublime ability to do things with our hands, rediscover a relationship with Nature.

As the Italian novelist, Fabio Stassi once wrote in "Charlot's last dance": We are all tightrope walkers in precarious equilibrium on a thin wire, which is almost imperceptible. Only in the disorder called Love, any stunt is possible.



The Brunette Bros. Chapter 1


Desecrating and unconventional, starting from the name, a company founded initially by two women. Lisa and Maria met 15 years ago in Copenhagen and they never left each other again. In the suburb of Christiania, founded in the '70s by Hippies, they gave birth to the bizarre circus project that they define as "the biggest and the second smallest Circus in the world".

With self-irony and deep respect for the figure that inspired them, the Maestro Alexander Calder, the brilliant creator of the first real micro circus world, transportable in two suitcases.

Under the scorching sun or soaked to the marrow due to monsoon rains, Lisa and Maria never stopped, did not want ordinary and monotonous life, they created themselves irregular and anomalous existence and career ... Wrecked trucks and painted caravans are for them home, means of transport and stage. Tools, costumes, gadgets to promote their shows, but also to self-finance, because "we do not want to end up crushed by the contemporary economy and bureaucracy, so we are determined to remain always autonomous and self-sufficient".

The company has expanded over the years as a result of love. Lisa and Maria are both mothers and their children are already an integral part of the Brunette Bros: Marius, Maria's son, single mother, is a born actor, while Ernesto, younger, Lisa's son, often sits in the front row and energetically, he directs the music. Manu and Luca are the men of the artistic community. Manu is also a husband of Lisa and father of Ernesto.

Their artistic and cultural references are varied and can be seen in their shows:

Buster Keaton, Charlie Chaplin, Federico Fellini and even imaginary characters such as Betty Boop and Bozo il Clown. Each of them is the result of eclectic and varied training, from music to design, from film editing to avant-garde theatre.

This incredible abundance of languages and experiences manages to create magical alchemy that flows like an underground river in shows of dreamlike, surreal nature, able to magnetically engage spectators and surprise them during each performance. Their inexhaustible creative energy is a way to give back to the world the emotions of their nomadic and restless souls.


Les Pêcheurs de Rêves. Chapter 2


"Les Pêcheurs de Rêves" is a small family circus from France, where husband and wife duo Vincent and Florence play the roles of Za and Krapotte, two married clowns. In the performance, they make a parody of their own life and marriage itself. Krapotte, like Florence, is the strong one in the couple, while Za (Vincent) does anything to please her. Real-life mixes with fiction in this show and their belief in their artistry is so strong that Florence and Vincent married under the "clownesque regime," a name they invented to demonstrate their faith in the characters they created and continue to interpret. The family lives in Strasbourg, but is travelling most of the time, to perform in various festivals. Their show titled 'Nez pour s'aimer', is a story of humour or love as shown on the affiche that launches the show, in a game of surreal assonance, thanks to the French words humour - amour. Zia (13 years old) and Zorhan (10 years old) travel most of the time with their parents because the shows are held mainly during the summer. The technical department is run by Marco, a single father that travels with his daughter Luna (6 years old). While the parents sleep in their own caravans, the kids enjoy the wildlife sleeping all together in a tent, they are left free to express their universe and learn from the school of life.


Teatri mobili - Girovago e Rondella. Chapter 3


They are born romantically and artistically on the island of Rhodes, a place that alone evokes epic and mythological destinies.

Marco and Federica became Girovago and Rondella, an itinerant circus duo wondering the islands of Greece.

The birth of the second generation, with Rugiada, Timoteo and Tommaso, has ratified the baptism of a Family Theater.

Their project is wide-ranging and when we talk about modern circus as a multidisciplinary art, Girovago and Rondella are perfect examples to understand in a concrete way what it means. When their daughter Rugiada married Facundo, together with her brothers Timoteo and Tommaso they created the Compagnia Dromosofista. This extended theatre company is now an enlarged 3 generations family of actors, musicians, puppeteers and sculptors.

The two companies travel together performing their show in the Teatrobus. They entertain the audience inside their small bus, showing the poetry and the magic of life. A Figure Theatre without dialogues but with a formidable communicative and evocative power, able to excite and stimulate the imagination.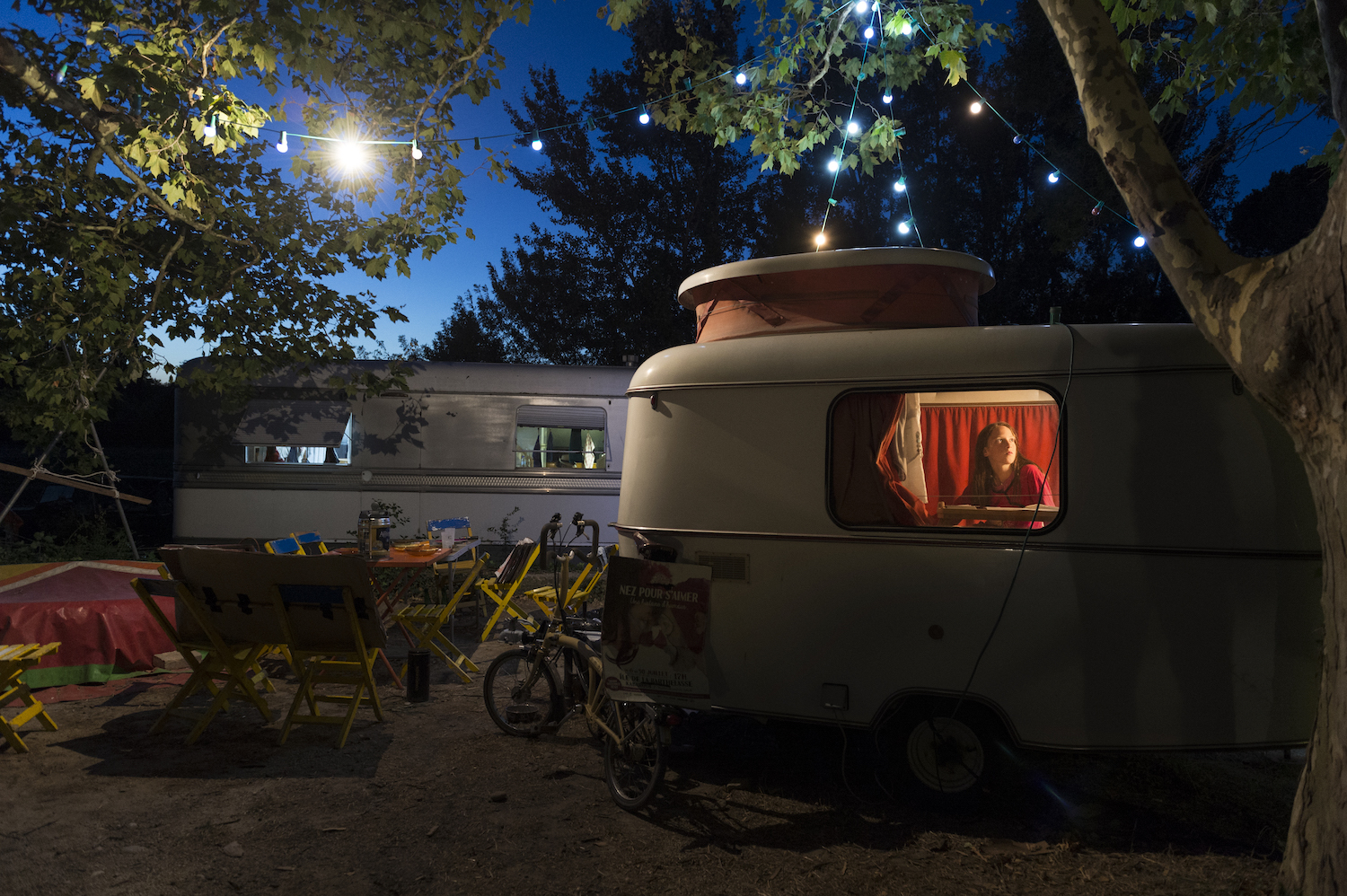 Cirque Bidon. Chapter 4


Created in the '70s by François Rauline, this Circus has been travelling around Europe for the last 40 years on horse-drawn caravans, 25 km per day to a speed of 4km per hour. At the age of twenty, François was in Paris working as a blacksmith, but he dreamed of a different life, more in motion. It was 1968 and, like many others, he wanted to be able to transform the world, a vision so great and unattainable that he turned into something more tangible: he transformed himself, the perception of time and left his work to travel and open a new world, of his own. He says "The need for slowness came slowly along with the hunger for a time. Money was scarce, so I sold the bike and bought a horse and then built a caravan. This is how Cirque Bidon was born, with some friends and a classical dancer who dreamt of being a trapeze artist and was looking for poetry. Before our paths separated, we did so much together, with her who she is also the mother of my son."

Today, with his long white beard and his inseparable hat, he is accompanied by 15 professional artists and when he arrives in the city his caravan is greeted with enthusiasm and curiosity by the people, who follow it almost in procession. Dreamlike and delicate, this contemporary circus of art and poetry is a combination of theatre, live music and clowns.


Giffords Circus. Chapter 5


Nell Gifford began Giffords Circus in 2000 with her husband Toti the son of a farmer who grew up on the Cotswold hills. She grew up in Oxford and when she left New College Oxford she had a dream, remembered from childhood, of starting her own village green circus.


Together they have realized this dream. They bought a round white tent from the Trade It newspaper. They built a maroon and gold showmans wagon to live in. They advertised for performers in The Stage newspaper and held auditions in a little dusty theatre in Cheltenham.


These were their first baby steps, and since then they have taken a new show out on the roads of England every summer. Their vision was a miniature village green circus, bursting at the seams, packed, rowdy, tiny, a little band of performers who live nomadically, performing daily, engrossed in the serious business of making magic.


Since that start in 2000 they have entertained over a million people, and have worked with some extraordinary circus performers and creatives. They have travelled to Paris, Moscow, rural Hungary, Romania and beyond in search of talent and in search of people prepared to give up their own life temporarily and bring their mastery of a certain skill to the show. Gypsy violinists, tap dancers, tight-rope walkers, trapeze artistes, stunt riders, opera singers, magicians, illusionists, gymnasts – all have inhabited Giffords Circus, and travelled with it, stopping to camp on village greens and throw open the doors to the rural families, farmers, weekenders, tourists, film-stars, rockstars, artists, school children who love the show.


Horses are at the heart Giffords Circus. Nell and Toti both grew up riding horses. The compelling adventure of horses is something that once experienced is hard to forget or turn away from. Horses inspire each new show and the shows revolve around them.


Since 2012 they have worked with brilliant comedy director Cal McCrystal, whose credits include Paddington Bear and One Man Two Guvnors.



Giffords Circus is the 5th chapter of Circus love, it was shot in 2019 and sees on stage the Hippy show XANADU. Nell Gifford has performed until the last day of the show despite she suffered from cancer. She died in December 2019, but she has created something immortal and everlasting: her wonderful Circus.


The Raluy Legacy Circus. Chapter 6

There is a place where the hands of every clock have stopped turning, and time has stopped in a defined and perpetual space; is a journey towards the essence of an ancestral spectacle that takes us back to the dawn of the twentieth century, between the swirling charm of the largest collection of hand-painted caravans from the beginning of the last century, and the red and white tent that recalls the ancient carillons with their winding music.


The Raluy Legacy Circus is an artistic reality that is expressed in the contemporaneity of the new Spain, but which embodies the most realistic vision of that analogical time of the gold diggers, of the noisy fairs in small villages with rough roads and oil lamps, when Acrobats and Clowns represented the solemn and grotesque portrait of human society, exposing its weaknesses and exalting its strength.The Raluy Legacy Circus is, the result of a great dream of freedom and beauty; the search for an original and unique language that has its roots in the genealogical tree of a special family, a story that finds its prelude in the ancient world of fire-eaters, horse-drawn caravans, in a period of enchantment and illusions, when acrobats and magicians managed to illuminate the deepest emotions of an audience in total ecstasy for the performances of artists with the most amazing super-powers. And it was precisely in this scenario, that Luis Raluy Iglesias's imagination grew for what would later become the unconditional love for the Circus. Ideas, drafts, thoughts, the desire to earn money, everything ran fast in his mind: the project of a place where to fully express one's personality, amaze with extreme performances, like that of a man and a woman fired from the same cannon, at the limit of physical performance that brought their name to world-wide fame. Luis's inner ferment, his ambition for success and popularity, was only the beginning of a path that would have dragged the Raluy family towards the dreamlike and visionary adventure of a Circus handed down from generation to generation.

Click to view the complete set of images in the archive