Dead To Rights
© Lawrence Sumulong

Comprised of photographs dating from 2007 to 2018, Dead to Rights uses the capital city and my surrogate home of Manila, the Philippines as a theater for looking at the contradictions, extremities, and inequalities that characterize the human condition and its mortal coil.

Manila is the city that I have visited the most and I have charted its evolution from the 25th anniversary of the EDSA revolution to the rise and violent reign of President Rodrigo Duterte.


An authentic Filipino birth certificate forged in the famous black markets along Recto Ave.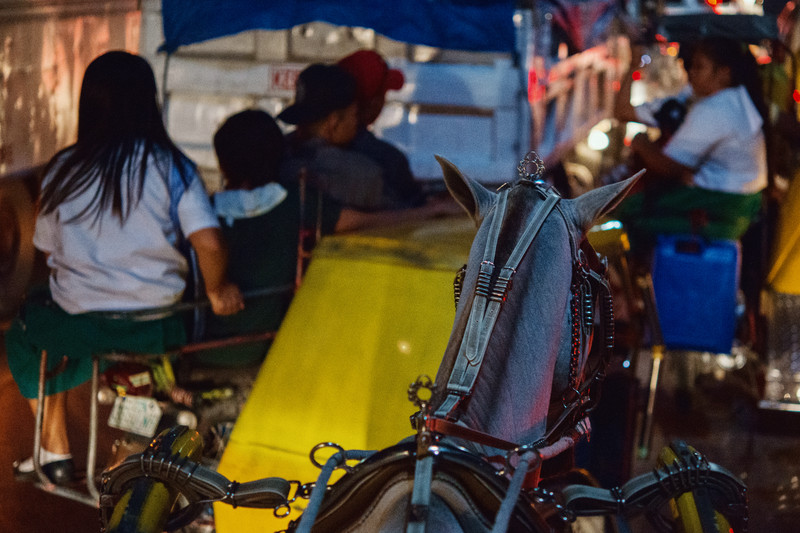 A kalesa or traditional horse driven carriage stuck in heavy traffic on Roxas Boulevard near Manila Bay on its way back home to Navotas. This kalesa is one of two owned by the cochero or carriage driver Julie and her Lesbian partner Gemma, who is suffering from breast cancer. Kalesas were one mode of transportation introduced to the islands in the 18th century by Spanish colonizers, and was initially reserved for only nobles and high-ranking civic officials. They are rarely used in the streets today, except in the tourist-frequented areas of old cities and some rural areas. Julie and her relatives work in the Manila Bay area but commute north every night along a road that has become notorious for its traffic, poverty, and extrajudicial killings.

ERMITA, MANILA. 2018.


As a child of Filipino parents who fled the Marcos Regime, I have always felt that my life could have easily begun in the Philippines instead of the United States. That moment in Philippine history and the choice of my parents determined my fate.

Manila has always existed in retrograde to my life in America. Overseas, I photographed continually reckoning with the notion that what differentiates me from the Filipinos that I depict is a sleight of hand and a trick of the eye. In another life, I am that person in someone else's frame.

As such, the narrative begins and ends with an authentic Filipino birth and death certificate that were forged in the famous black markets along Recto Ave. The series imagines an entire life and my own demise in Manila from the lives and deaths of real people that I encountered and photographed.


click to view the complete set of images in the archive



A girl writes on the window of a parked police car as a fire burns in the background.
NAVOTAS, MANILA. 2018.
Claro M. Recto Avenue, more popularly known as simply Recto Avenue, is the principal commercial thoroughfare in north-central Manila, Philippines. It spans seven districts just north of the Pasig River in what is generally considered Manila's old downtown area.
RECTO AVENUE, MANILA. 2018.
The blood and brains of Nikki Mercado, 27, trickle downhill into a gutter. Mercado's body was found dead with several gunshot wounds without any leads on a suspect. His death marks another case in the growing list of extrajudicial killings and forced disappearances that began during President Duterte's War on Drugs in 2016.
NAVOTAS, MANILA. 2018.
A street vendor holds up a mold for a screen print design that he is selling on t-shirts to commemorate the 25th anniversary of the EDSA Revolution. The People Power Revolution (also known as the EDSA Revolution and the Philippine Revolution of 1986 or simply EDSA 1986) was a series of popular demonstrations in the Philippines, mostly in the capital city of Manila from February 22–25, 1986. There was a sustained campaign of civil resistance against regime violence and alleged electoral fraud. The nonviolent revolution led to the departure of dictator Ferdinand Marcos, the end of his 21-year totalitarian rule, and the restoration of democracy in the Philippines.
QUEZON CITY, MANILA. 2011.

A child plays with confetti during a wedding between a Filipino woman, Mishel, and a Korean man, Jason, at The Manila Hotel.

ERMITA, MANILA. 2012


A waiter enters the service entrance into the penthouse of the Manila Manor Hotel.
MALATE, MANILA. 2007.
Young relatives and children of the deceased, Jovito Marquez Jr, are carried over his casket and cadaver before entombment in La Loma Cemetery to hinder the ghost of the dead relative from visiting the children. On November 5 at around 5 am, two unidentified bodies were found, one along R 10 in Navotas and the other at Tanigue St. under the Sawata bridge along C3. Both had single shots on the head and both victims had strangulation marks around their necks and cuff marks on their wrist. One of them was later identified as Jimboy Opriasa, 35 years old, a resident of Gensan St. Sangandaan, Caloocan. The other was identified as Jovito Marquez Jr. 23 years old, a resident of Malaya, St. Balut, Tondo. Both deaths mark another case in the growing list of extrajudicial killings and forced disappearances that began during President Duterte's War on Drugs in 2016.
CALOOCAN, MANILA. 2018.