Gentrification

© Shai Kremer

This project explores Brooklyn as a case study of gentrification.

Part I reflects my personal story.
I lived in Bushwick through the course of a decade, from poor immigrant art-student to "gentrified" landlord. This made me question and challenge the ambivalence of my feelings about this transition. The resulting sculptures are a combination of my photographic images of gentrified spaces, inserted into locally found, decades-old, fixtures. Loosely inspired by Gordon Matta Clark, the object becomes a hybrid of old and new, like the gentrified landscape.

Part II follows my historical investigation.
Covering several neighborhoods, I mix historical found imagery with my photographs of today's city-scape. This spans several decades and for each street corner, gives a simultaneously absurd and surreal glimpse into its past and its future.

Part III takes a closer look at the human repercussions.
The 'locals', the neighborhood's old-timers, are disappearing (through a visual metaphor) in front of the newcomers, portraying a new sense of social alienation. Graffiti is present as an interesting signifier of upcoming gentrification: it reveals a sub-cultural resistance, while being trademarked and packaged to sell the neighborhood to the highest bidders.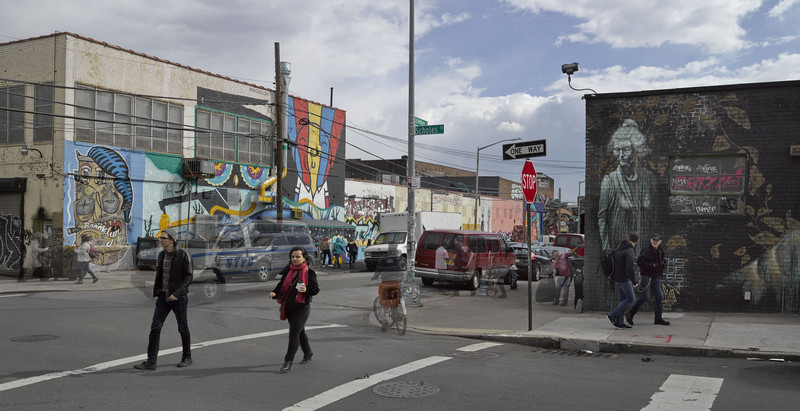 As in my previous work, I use the landscape as a platform for discussion. While exploring Brooklyn's gentrification I point out the socio-economical consequences of a new and changing environment. Even as we expand this view to the evolution of our global world, we must pay attention to the price we pay as a society.

text and images © Shai Kremer

click to view the complete set of images in the archive