Kobzov, Circus in Ukraine

© Mateusz Baj

Kobzov is a Ukrainian, traditional Soviet-style circus traveling from town to town for ten months of the year. Artists and labourers live together for most of the year. For many of them - former sportsmen, people with disabilities or from regions affected by war - the circus is the best, or sometimes even only way to secure an income. But at the same time, circuses are met with massive criticism for animal abuse.

In January 2020, Ukraine's Ministry of Culture, Youth and Sports announced that a new bill is in preparation which will ban the use of animals in circuses from 2021. Earlier, similar regulations were implemented in Kyiv, the Ukrainian capital.

Animal rights activists in Ukraine have been lobbying for these regulations for years. According to activists from UAnimals, dozens of animals are travelling with traditional style circuses across the country. Often they are kept in small spaces, deprived of physical and social needs. Defenders of old-style circuses are claiming that for many Ukrainians from the interior, circuses are the only opportunity to see exotic species with their own eyes. According to them, animals are treated well and they are an inseparable part of the circus. Without these creatures, shows would be unprofitable and many circus workers will lose their jobs.

Two weeks after I left the circus troupe, their giraffe died from a heart attack.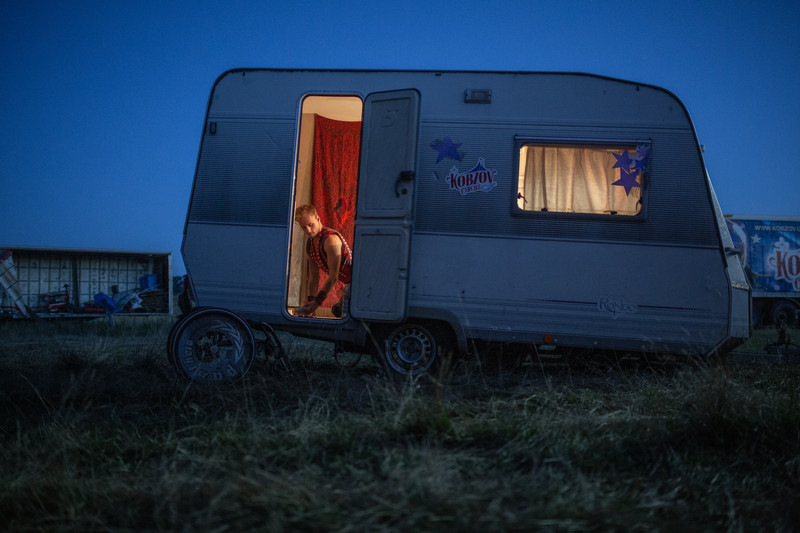 click to view the complete set of images in the archive