Kurbas Theater: Ukraine

© Sasha Maslov


Lviv theater is now a refugee hostel


Named after a prolific Ukrainian avant-garde director, Les Kurbas, the theater has been a popular destination for Lviv thespians since 1988. "It's pretty hard to get tickets even in advance," says Oleh Tsona, 59, the long-time theater director. He joined the theater just one year after its birth, in 1989, and since then has become a prominent voice and face of the theater. "We are attracting a niche crowd of the intellectually oriented public. Many of our plays are philosophical, but we are also experimental theater. We try to develop a relationship with our public." The century-old building was a popular meeting ground for young actors and theater lovers in the city centre people like Natalia Rybka-Parkhomenko, who moved to Lviv from Kharkiv 17 years ago. She became a part of a small group of just 15 actors of Les Kurbas theater and lived the life she always dreamed of–regular tours in Ukraine and Europe, leading an exciting life amongst close friends and colleagues.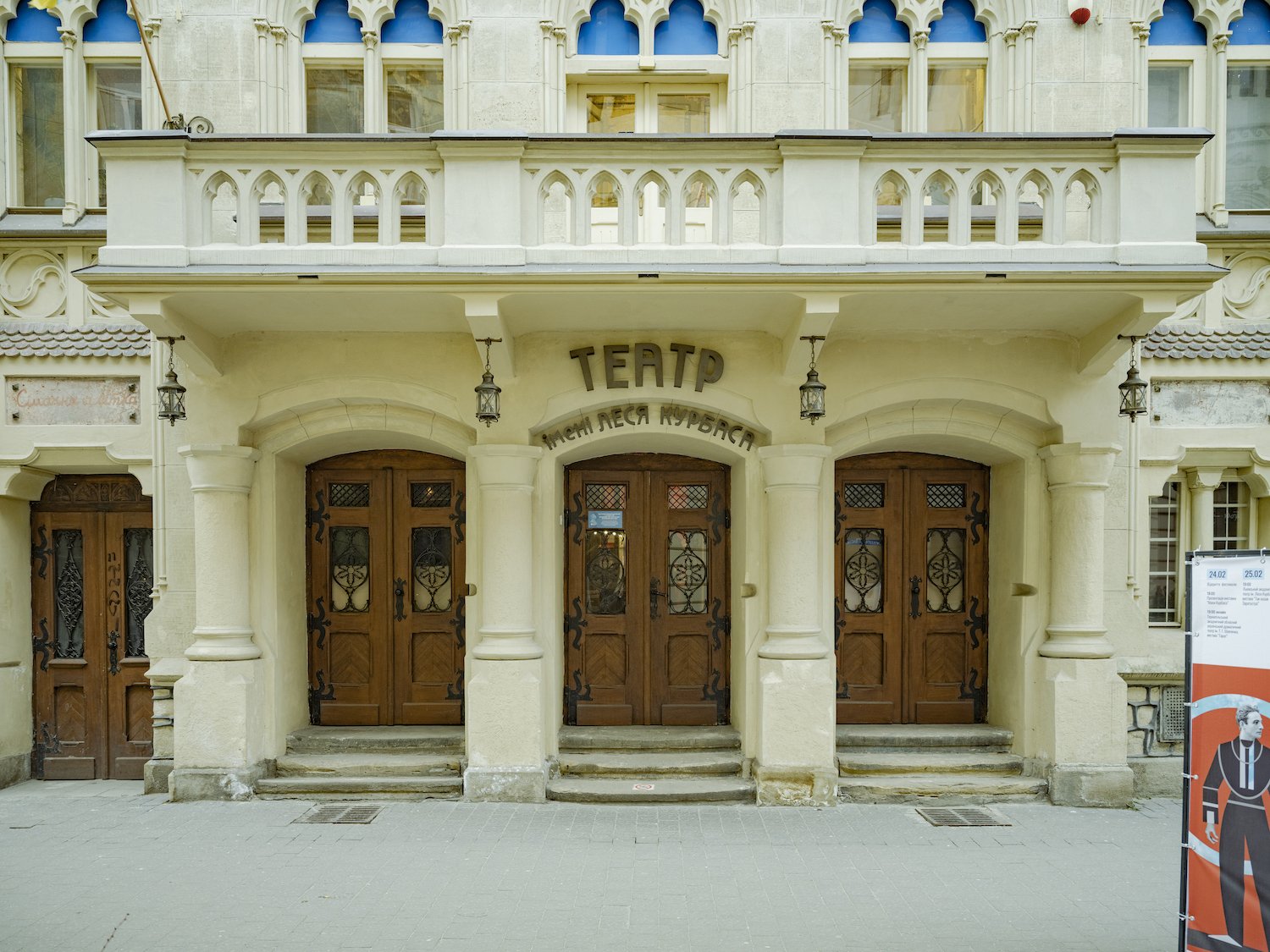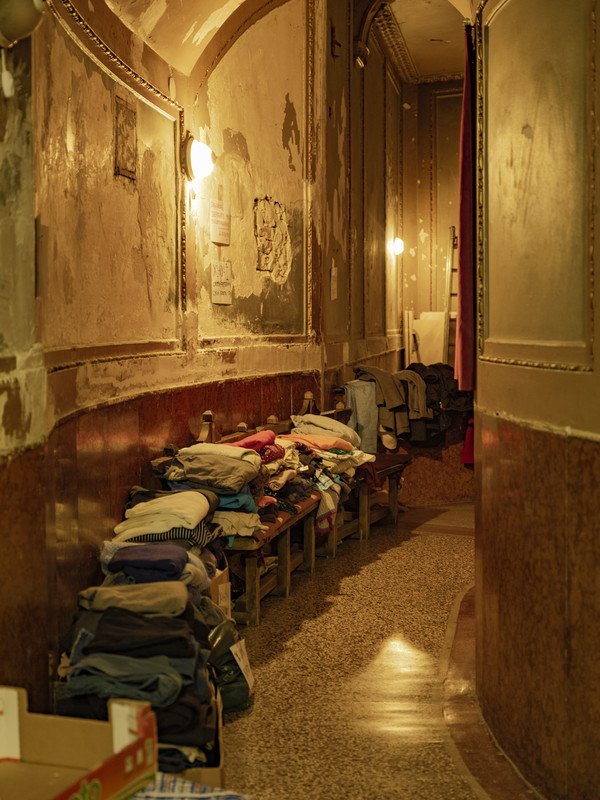 But on February 24th, around 5 AM, the phones at her Lviv apartment started going off. She answered a call from her father only to hear his trembling voice saying, "Natalka, we are being bombed." She was overwhelmed with a feeling of panic and shock–a big part of her family was in Kharkiv, including her brother's 8-months pregnant wife. They tried to leave but couldn't. Natalia said the first hours and days of the war were devastating for everyone; for her, it felt like someone stole everything she lived for and replaced it with a new reality to which she didn't know how to adapt.



After the initial shock passed, Natalia, as many other Ukrainians, rushed to mobilize resources to help. She reached out to her colleagues and called her connections in Lviv's mayoral office, asking how the theater could help. They came to a solution: turn it into a hostel for families needing temporary shelter. The theater itself is famous for its coziness, with a small 10 x 20 meter stage, only about 70 seats including the gallery. So they had to work creatively with the limited space available. The volunteers outlined the number of beds they could fit, which amounted to 18, plus a communal table for food, some basic storage options, and bathrooms. The basement was designated as a bomb shelter and outfitted to supply basic needs for people staying at what was yesterday a lively theater and now, a haven for refugees.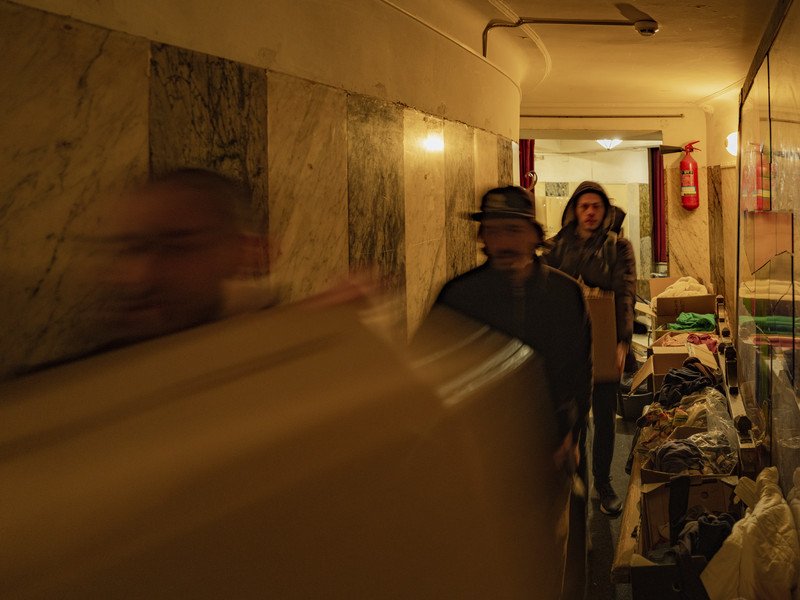 On February 26th, Natalia fired up her Facebook and posted a call for help. In all caps, she wrote that their theater is becoming a "PLACE FOR A INTERNALLY DISPLACED PEOPLE" and posted a list of things locals could donate the following day starting at noon. When Natalia arrived at the theater in the morning, a line of Lviv residents was waiting with supplies from that list: clothing, bedding, and food. At 12:36, she posted on her Facebook another message, "Starting today, February 27th, we are accepting people for a temporary stay that have nowhere to go". Within hours people seeking a place to sleep, mainly from the East and Central Ukraine, started arriving at their doors.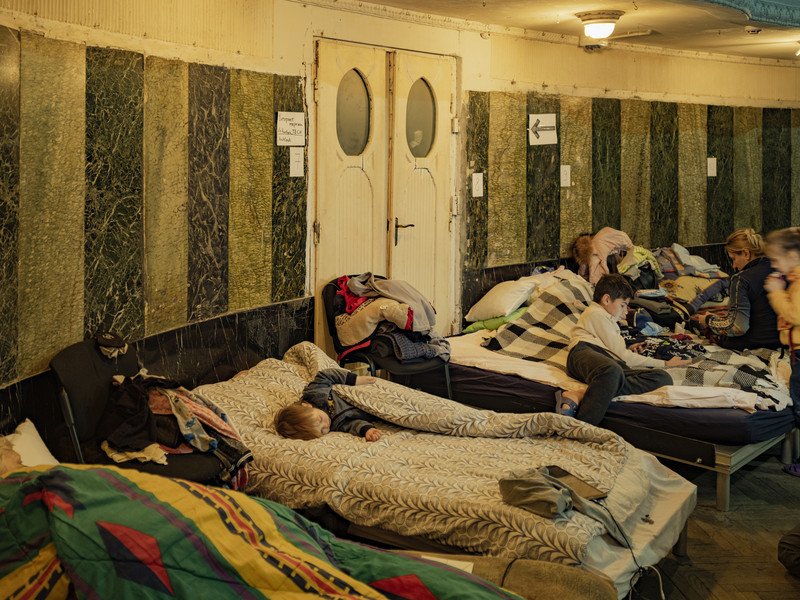 Lviv has become a hub for the people displaced by Russian bombing as they pass on the way to smaller towns in Western Ukraine that are considered relatively safe or to Poland and other Western countries. The city, used to international and Ukrainian tourists, found itself overwhelmed with the flow of refugees from their own country and hurried to collect resources and build infrastructure to shelter this influx of people. It's not uncommon to hear locals asking passers-by if they need a place to sleep or a hot meal.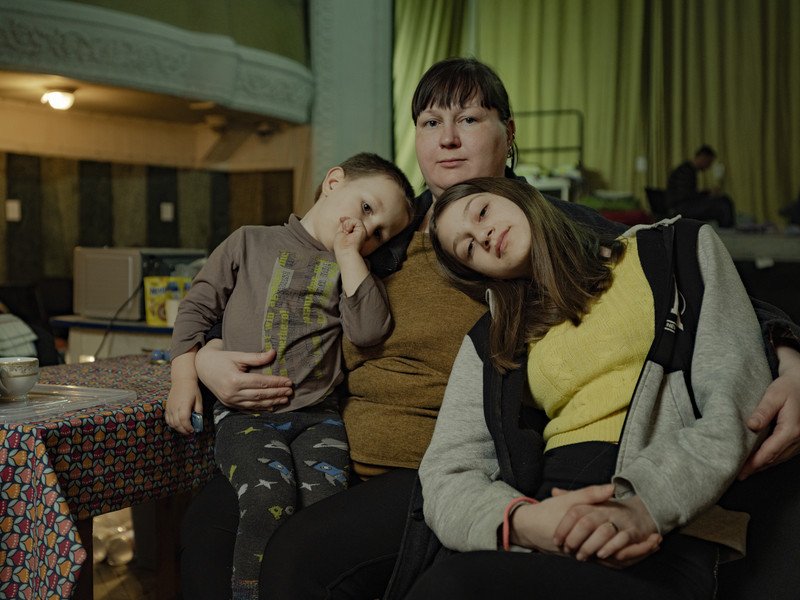 Olga Hohlova, 35, a postal worker, had to flee with her two children - Misha, 3, and Nastya, 12, from Severodonetsk. A day before they departed, their apartment block was shelled–their flat was ok except for shattered windows, but parts of the building were destroyed. "We held on for as long as we could, but at a certain point, it was intolerable. We were under constant bombings, hiding in shelters, sleeping in shelters. We couldn't take it anymore". Olga put her name down for evacuation on March 11th and left on the 12th. She got to Lviv quickly, arriving on the 13th. The next day was Misha's birthday–he turned 3. Olga says it is probably easier for him because she can convince him it's all a big adventure. However, for her daughter, Nastya, it is much more difficult to leave everything she knew behind and go into an absolute unknown. For now, they don't know where they will travel next. "It's all up in the air. Maybe we will go to Europe, maybe we will stay somewhere in Ukraine. But really we just want to come back home. We just don't know if there is anything to go back to".




S erhiy Kravtchenko, 46, a body shop worker, and his son Nikita, 15, are from the small town Vasylkiv in Kyiv Oblast which came under heavy bombardment because of the nearby Air Base and an oil depot, which burned for four days. The hellish red flare was visible from Kyiv.


Serhiy decided to bring his son to Poland, where they have some family, but men ages 18 to 60 are forbidden to leave the country as Ukraine enacted Martial Law, so Nikita would need to travel alone. However, he can't cross the border being an unaccompanied minor, so Serhiy desperately needs to find someone who could take him to Poland. Serhiy himself has received a draft letter and has to report back to the nearest military base to start his service. Nikita, a quiet teenager, feels strange about leaving home. As his dad talks about shelling his hometown, he stares at his phone, messaging with friends who stayed. "Some of them are saying now that I'll probably never come back," he says quietly.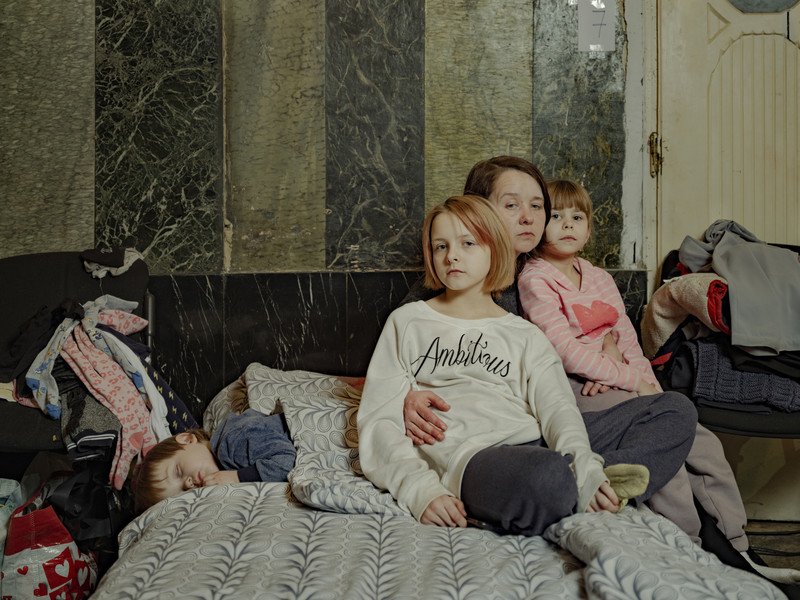 Alina is a single mother who came to Lviv with her four kids from Severodonetsk. She was hoping she wouldn't have to leave her home, but early morning on March 11th, the Russian Army started shelling the city, and her neighborhood came under heavy fire. All of the windows in her apartment building were shattered. They spent the day in the basement as the fighting on the ground raged on. "The hardest was to leave our home and everything we worked for our whole life. But I was terrified for the kids. We couldn't stay a minute longer," Alina says, turning her eyes away crying. As soon as it was relatively safe, they ran up to their apartment, finding it covered in shards of broken glass. They grabbed a few things and ran out of the building. Local volunteers helped them find an escape route from the city. They were first taken to Slovyansk, and at Slavyansk they were able to get on an evacuation train heading for Lviv. They arrived in Lviv the evening of March 13th.


Her four kids are always with Alina - Timur, who is just three years old and has been sleeping a lot since they arrived. Gloria, 10, likes to draw, and Miroslava, 6, wants to be a ballerina. Elvira, 12, is a swimmer. The sports complex where she trained was also bombarded. "It's probably completely gone," says Alina wiping her tears, "I don't understand. I just don't understand why."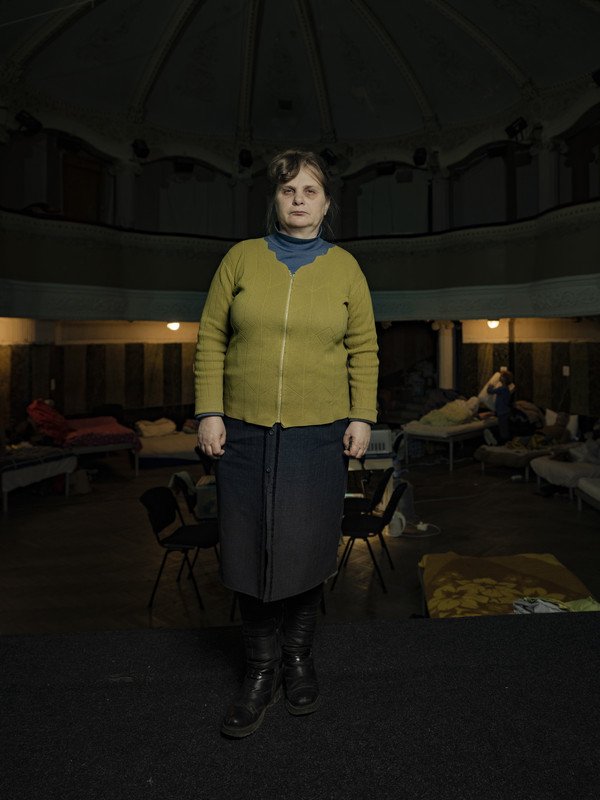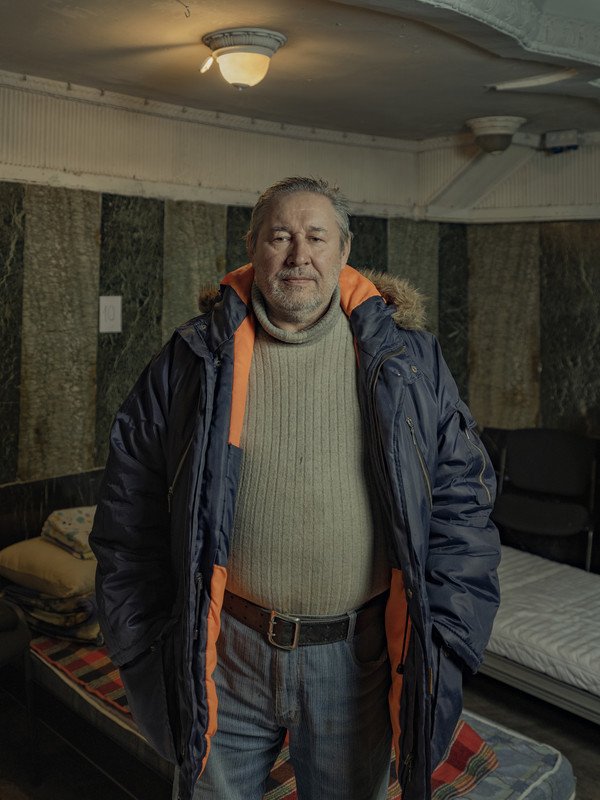 Mikhail Kovalenko, 67, is a retired sailor from Mariupol. Lately, he has been working as a security guard in a municipal park called Veselka, which means rainbow. On February 24th, he got a call from his boss asking him not to come to work. Shortly after the bombing of Mariupol has started. "First we were worried for our windows, then we were worried for our apartments, then we were worried for our lives," says Mikhail, who just arrived at the Kurbas theater after a terrifying three-day journey. First, he was outraged, he tried to join a territorial defense unit, but it had already left the local precinct to fight. Mariupol has suffered immensely. The city came under a barrage of artillery fire and air raids. The Russian troops tried to enter several times and were fought off, but the town was left without electricity, gas, running water, cellphone or internet service. After a long-range missile fell on the building next to his, leaving it in ruins, he decided to leave by any means possible. With conflicting information about humanitarian corridors, cut off from the world, he didn't know what the best way to evacuate, so he jumped into his old Volvo and started driving West. He only made it to the right bank of Mariupol before being turned around. Fearing to go back home where the shelling had intensified, he found refuge in a local Drama Theater. There, according to a rumor, humanitarian convoys were forming the following day to leave town.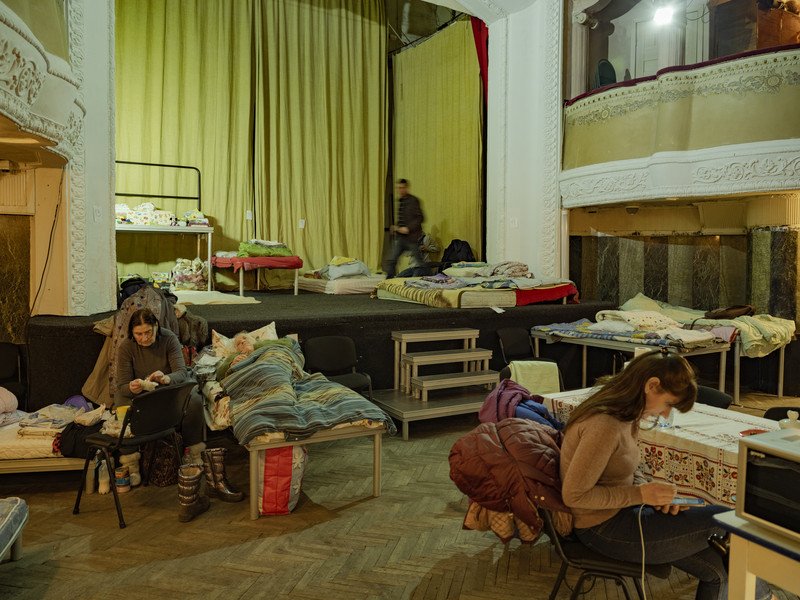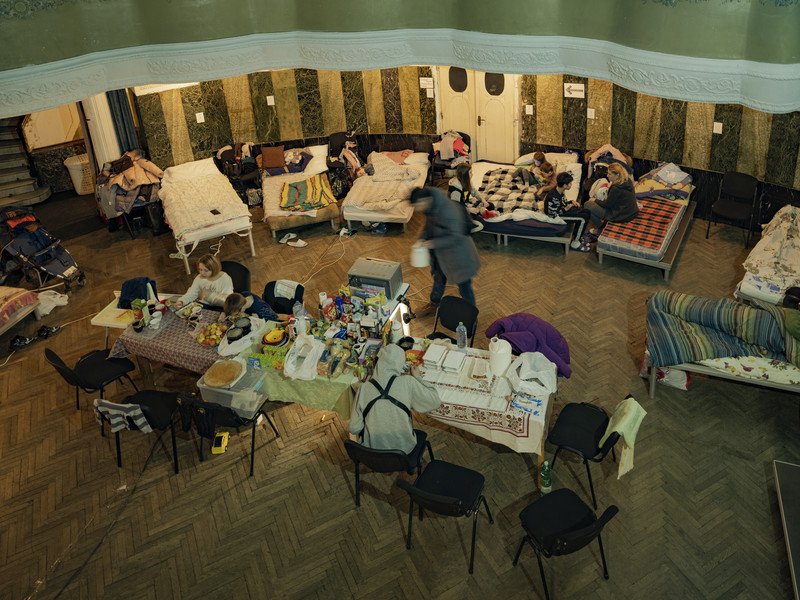 This information turned out false, and Mikhail had to stay for two days sleeping inside the theater. There he met Liliya Marfenko, 56, and her daughter Olga,22. Liliya is a music teacher, and Olga works in a rehabilitation center for kids with special needs. On the 27th, they lost electricity and water. Then cooking gas and cell phone service. "We live on the 7th floor, so we would collect rainwater in buckets when it rained". Hoping for a quick resolution, they didn't want to leave their home, but on March 8th their neighborhood was bombarded and they decided to run. The neighbors agreed to drive them. "We were waiting for the breaks between bombs falling, and when there was one we ran," says Liliya, trembling, "When we got out of the building, there was an explosion, and my neighbor got hit, her legs were torn off, and she died right there. My daughter was behind her exiting the building. If she was few meters ahead she would be dead. And it happened right in front of her eyes. She is now very traumatized and haunted by nightmares". Wearing a nightgown and clutching a plastic bag with their important documents, she and Olga jumped in the neighbors' car. They took them to a different neighborhood in Mariupol, where they stayed for two days until the shelling started there. Liliya and Olga needed to seek shelter elsewhere but trying to find a spot in a bomb shelter was impossible. "We were dropped off in front of a fitness club serving as a bomb shelter, we started knocking, but they just had a note on the door - No space." Trying to find a shelter anywhere, they saw a police car and asked for help. The policemen, who were trying to avoid being hit themselves, sped up towards the Drama Theater that was accepting people with Olga and her mom squeezed on the back seat.

They spent six days there. They met Mikhail on day 4 when he hoped to find a way to leave town safely. On the third day of waiting for an approved route, the bombing has reached the theater where they were staying. Mikhail decided to go without waiting for the humanitarian route to be established and jumped in his car. As he ran towards his vehicle, he saw Liliya and Olga standing on the street as rounds were exploding couple hundred meters away from the shelter, seemingly in shock. Cars full of families passed them by. Mikhail grabbed them, and they all piled into his station wagon and drove away. As they were leaving Mariupol, they heard explosions behind them. They left Mariupol into the unknown.


The first Russian checkpoint was in Berdyansk, and they had passed more than a dozen of them before they reached Zaporizhzhia. Some Russian soldiers were friendly, saying "Safe travels." Others were aggressive. A few times they had to show the contents of their phones, and Mikhail, even though he had deleted a lot of communication and apps like Twitter from his phone, was made to delete the images of his own devastated house showing the results of shelling. On one of the checkpoints before Zaporizhzhia he got a flat tire. A Russian soldier came to him and asked if he needed help. "Young Dagestanian guy just saw me and offered to help." Mikhail was surprised but accepted it. As the soldier was leaving, he said, "I am sorry, it's not our war." But for them, it didn't seem that way.

As they made their way from a levelled Mariupol to Zaporizhiia, which was under Ukrainian control, they were directed to the parking lot of a local big box store, assigned a space, fed, and asked to wait until the morning before moving on. They drove through the next day, and the day after that, they finally reached Lviv on March 17th. They were the first people to arrive from Mariupol to Les Kurbas theater and one of the last to make it out of the Drama Theater in Mariupol before it was bombed.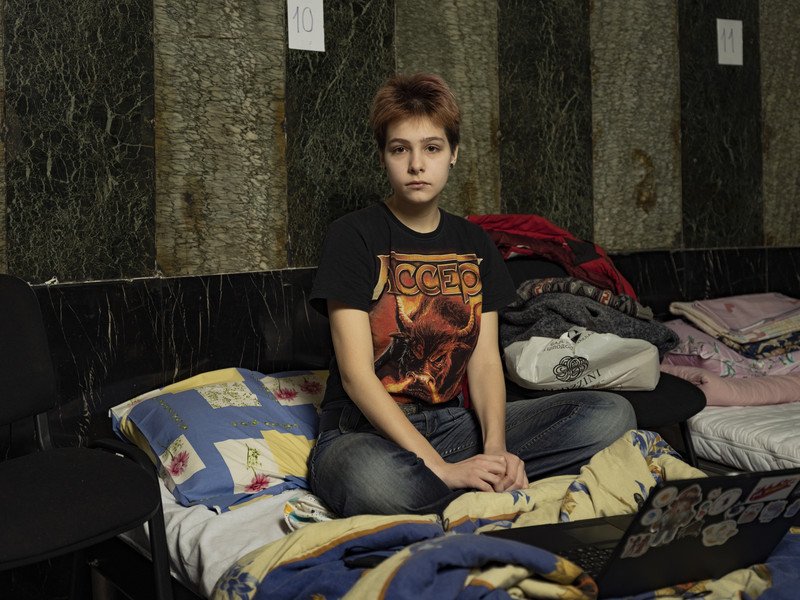 A couple of hours later, Yuliia Karpenko,17, asked for a bed in Les Kurbas. She was travelling with her mom and step-father from Mariupol via a similar route. On February 24th her mom woke her up to say that the war had started. "For me though it seemed unbelievable, but when a bomb exploded near our house and a piece of shrapnel broke the kitchen window then I fully realized it," says Yuliia. "On March 12th our building got a direct hit. We live on the second floor, and the rocket flew into the upper floors about 30 meters from our apartment. Our whole building was on fire, we had to leave". They stayed in a bomb shelter for two days, then her step-father found out about a convoy of cars forming at the Drama Theater to leave town, and they decided to join. "To leave together was better than leaving alone."


There was then an arduous journey through Russian-occupied territories. "We must have passed at least 15 Russian checkpoints, and some of them were nice, but some were really rude and made us show everything on our phones. One of them called me an extremist for things I was saying to my cousin about what was happening". They also made her stepfather delete photos of a destroyed Mariupol and their burning building.



Yulia was set to graduate this year and planned to apply to a University to study languages or sociology. Now her plans are unclear. "I will try to get higher education in Germany. I speak a little German, and I have friends there. I just don't know if any of our universities in Ukraine will be working, all schools in Mariupol are destroyed, all universities are destroyed. They bombed them". But after a pause, she adds, "But of course, I will come back, it's my home."

click to view the complete set of images in the archive