Russia's Expanding Army
© Pavel Volkov

It would not be a mistake to say that nowadays the level of the society's militarization increases exponentially. We see the intention to show the citizens of Russia and other countries the power and strength of Russia's military forces. The situation in the world is complicated. But even though young guys have to serve in the Russian army because it is obligatory for all men in Russia (except those who are seriously ill). Now all males at the age of eighteen have to spend a year in the army. Initially in a special training centre where they learn theory and practise. After the education concludes they get assigned to a military base.

Prior to joining the army young recruits have to pass several medical assessments. They then receive a uniform and some basic hygiene products. The uniform was redesigned several years ago to look less Soviet!

The perception is that the army can make men better and stronger. However, some soldiers are really afraid. Some choose the army because their fathers have also dedicated their life to it. Generations of the same family join up and it becomes a traditional pride.

Boys have the option of traditional schools or military educational institutions, the latter increasing in popularity. Childhood years spent in such institutions often determine the ultimate destiny and life of a person. Many men devote their lives to the military.

In May students of cadet corps and military schools participate in a parade that takes place in the Red square, in Moscow. It marks Victory Day.

Some of these cadets marching around Red Square will have to actually serve the country. Do the young soldiers and cadets appreciate what lies ahead? Often not. The army can form a man but it can also break one too.

The military carries kudos within society and a proud man states that he is a soldier of Russia.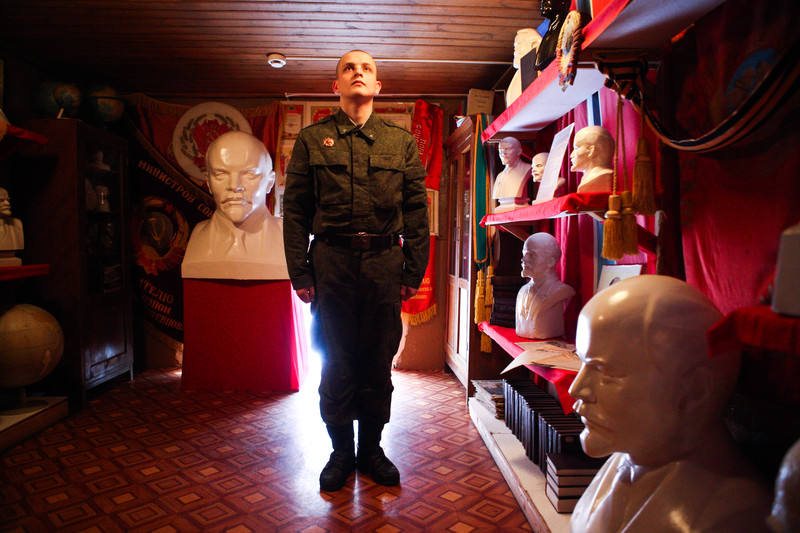 click to view the complete set of images in the archive