Thessaly

©George Tatakis


Caryatis


Thessaly in Greece, is home to a long tradition that can be traced back to ancient Greece. The campus of Thessaly, has always been the centre of agriculture, Meteora host beautiful monasteries hanging from the awe inspiring steep cliffs, making them the second most visited site in Greece after the Acropolis, and last but not least, there is the beautiful mount Pelion, mythical home of the Centaurs. Sporades' group of islands are also part of Thessaly, including Skopelos, the enchanting setting of the movie 'Mamma Mia'.

As far as traditional female costumes go, which is the epicentre of my work Caryatis, there is the famous Karagouna costume, one of the richest and more complex costumes in Greece, which was worn around Thessaly's campus, the costume of Pelion, which is a more urban outfit and the less known but very aristocratic costume of Trikeri. There are even smaller villages that are home to different traditional costumes such as the villages of Palamas and Stefanovikion and the costumes of residents who came from other places, such as the populations of Vlachi and Sarakatsani. Finally, the Sporades islands host two main different sets of clothing and that is the costumes of Skiathos and Skopelos.

This was my first trip to Thessaly and I managed to make images of the Karagouna costume of Trikala, as well as the costumes of Trikeri, Pelion and Stefanovikion. A second trip will follow to cover the rest of the costumes. Since I am trying to find either authentic items or genuine representations of authentic clothes, it takes quite some time to gather all the necessary items to dress the models with. The Karagouna costume characteristically takes around two hours to be worn by each model and it also takes days for people to gather, mend and prepare all the items before they can be worn.

I was lucky enough to have the help of the people involved in the local cultural clubs and I was able to find the necessary backdrops to frame the models with. Especially in Trikala, we were able to create the settings inside the 19th century Konaki (the Mansion, there used to be one per village) of the village of Glinos.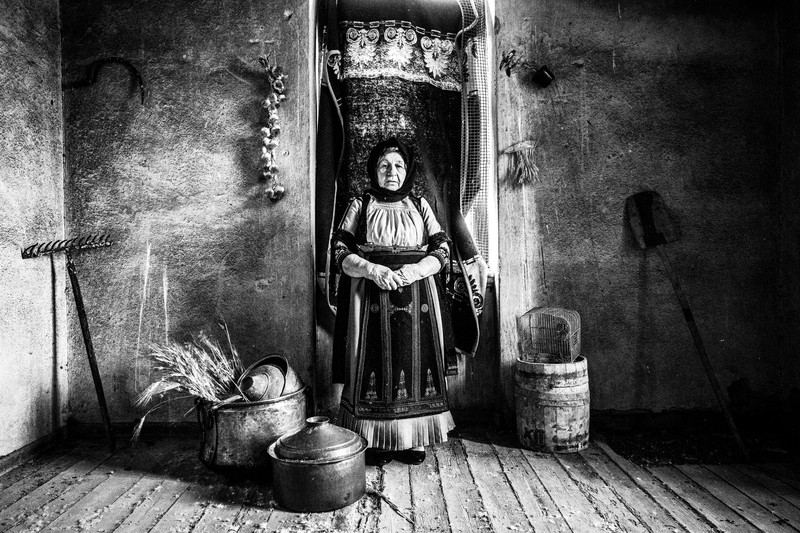 click to view the complete set of images in the archive

The Thessaly feature is part of Tatakis's long term documentation of Greek Traditions