Second City
© Jesse Marlow


Shadowing Jesse Marlow's city


by Tony Birch

At the infancy of its development in the mid nineteenth century, the new technology of photography was described as both 'the eye of history' and 'the pencil of nature'. The photographic image was received as a truth-telling device, forensically so, with the apparent ability to represent reality in an irrefutable manner. Thankfully, the still photograph has always defied such a reductive definition of its artistic ability. My love of photographs stems from the fact that, like good poems, they are never static – they are never still. Each time I look at a photograph – even one I have viewed previously – I am looking at it for the first time.

Jesse Marlow's Second City introduces me to a city I know intimately. Inner Melbourne, the city centre, the Birrarung (Yarra) river and Spencer Street Railway Station (since demolished), have been my haunts for over sixty years. I've walked the streets of the city, both the main thoroughfares and backstreets, written about them and taken thousands of photographs in my own amateurish way. And yet, looking at the images that Jesse Marlow has assembled for this book, I am introduced to city streets that while familiar are also unknown.


Sling Shot Press, Melbourne 2021
Hardback, 96 Pages, 44 B&W photographs, 8.5 x 10"
Foreword by Tony Birch
Design by Yanni Florence
Edition of 900
Signed

The images bookending the collection reflect an articulate engagement with the photographer's city. We can imagine the city as a darkening silhouette, cold and damp. We are protected from it, and it from us, by a rain-splattered sheet of glass. In the same city, on another day, the skyline hides a wink of sunshine while a gliding bird enjoys the solitude of an empty sky above the river. Two cities, second cities, one and the same.

In an era of digital waste, when people and streets are photographed endlessly, on a range of devices from iPhones and iPads to CCTV, Marlow captures remarkable moments of life, not by accident but with the eye of the ever curious and creative artist. The title of the book could not be more apt. Second City shadows the city we inhabit. Or, just as likely, we shadow it. He provides a portal into a city we can observe but perhaps never enter. The inherent contradiction that frames the images is that they are both captured in time and yet elude certainty.

Many of the photographs present people who are either on their own or with just one or two other people, sometimes sharing the same lens but not each other's company. It is intriguing to look at the city's recent past during the current state of COVID-19 'lockdown' in Melbourne. Images of isolated and near empty city streets have appeared in all forms of media in recent months, suggesting that we are experiencing a phenomenon alien to our being and experience. Marlow's streets are also rarely crowded, with his subjects often finding themselves alone, but perhaps not lonely.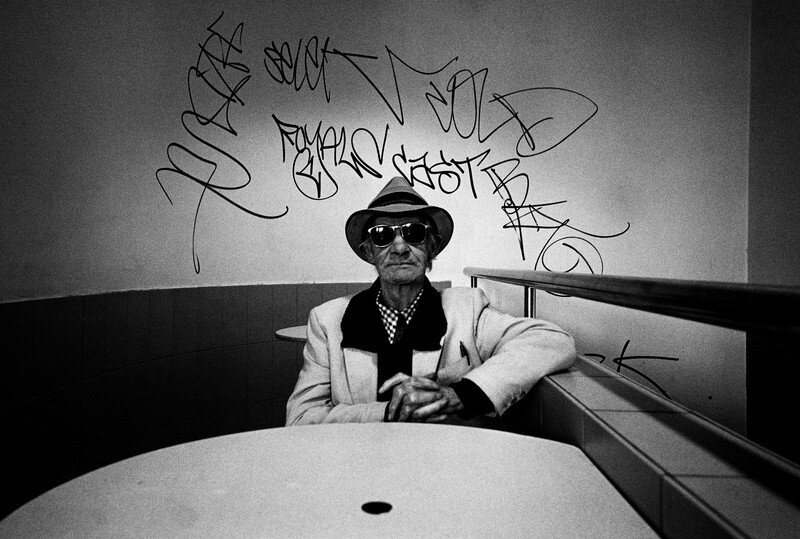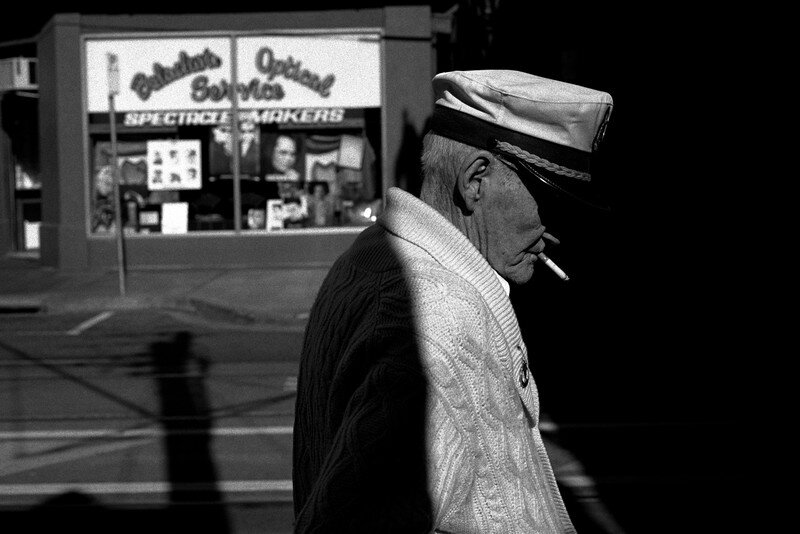 Interpretation of photography is a fraught business. Good photographs refuse a concrete statement as to intention or outcome, which adds to the endless and generous layers of the relationship we enjoy with a photograph. In one of my favourite images in the book an elderly angel walks across a nondescript urban landscape. Her shoulders appear slumped and her wings may be sagging. Each time I look at the photograph I am faced with the same unanswerable questions. Is she coming or going? She does look a little worn down. But I cannot be sure if this is because she is tired after a tough day of being an angel watching over the city (as in Wim Wenders' Wings of Desire); or maybe it's the start of her shift and this angel has a hangover from playing with the devil the night before…? I cannot answer any of these questions with certainty, which, of course, speaks to the qualities of the work.

Street photography is often dependent on the act of walking. The photographer walks and captures people in the act of walking. Artist and subject are part of the same performance, the story of the street, in which each cast member who stands on a street corner, who strolls along a footpath, disappears down a flight of stairs or leans against a wall for rest, is a player in an ensemble cast where there are no starring roles. Jesse Marlow's people wait for trains, promenade with shadows and look back at the photographer while walking vacant streets. Each of his subjects have agency. They are marked with purpose.

Moments of commune, of tenderness in Marlow's photographs tend to involve the young. We see a couple in a railway station forecourt; teenage girls enjoying the liminal space of one of Melbourne's many creeks concreted over for posterity; a pair of kids shooting hoops; and the reverie of a bagpipe player summoning the troops under the Flinders Street Station clocks. Meanwhile, the lives of the elderly, while more ambiguously present, are never relegated to the margins. In fact, they remain centred, at times mysteriously so. They are people with lives of value because they are valued by the photographer.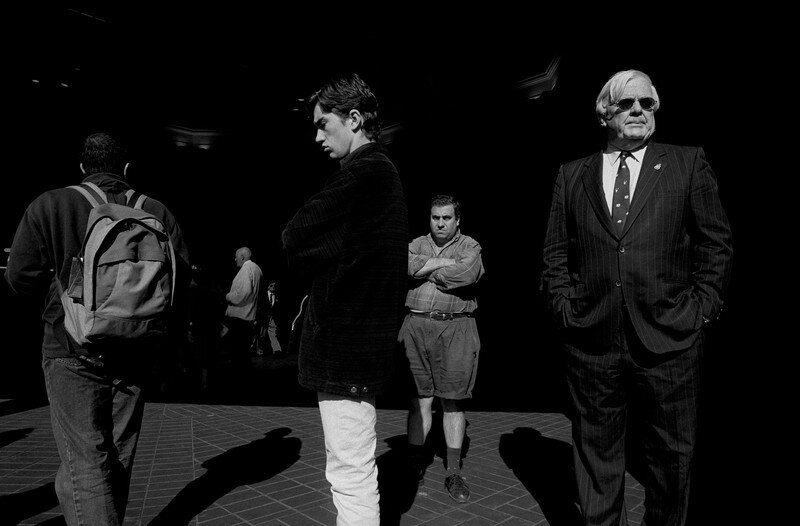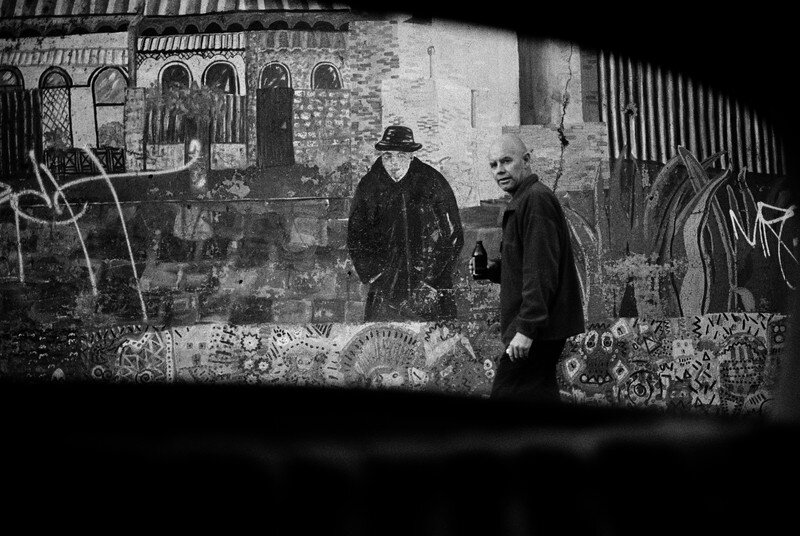 I sometimes feel that I am living in a time of social chaos. My concerns for my community, for the planet, focus on social equity and climate justice. The sense of despair that many of us feel with regard to such issues has been exacerbated by the COVID crisis. The virus seems to have arrived to test us: to ask us if we are capable of working more cooperatively in order to create a better world for ourselves and those who come after us. Solutions to the challenges we face seem to be complex and, at times, unattainable. It may appear odd, therefore, to link the subjects of Second City to such challenges. But, for me, this is not an odd comparison at all.

The idea of being 'in the world', engaged with those around me, friends and strangers, through chaos and comfort, is the key to confronting the issues we face. When I look at Jesse Marlow's photographs, and then examine them a second and third time, I know that these are the people I am responsible to, people I do not know personally and will most likely never meet. Jesse Marlow's Second City is a story of ourselves, both our connections and divisions from each other. Having produced a narrative of others, Marlow has, remarkably, provided us with a self-portrait of common humanity.

click to view the complete set of images in the archive